Finally, a book review as Ann Rule does it again with "No, Regrets".

He piloted mighty boats and lived past 80 years but his own wife ended it all for him.
Pic of the Day
As a public service of this Blog…a nationwide weather review.
---
Ann Rule's "No Regrets"
Rolf Neslund loved the sea and for most of his 80 years he was captain of a boat. While Neslund was a fine man of the sea, he was a man who knew very little about women.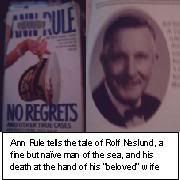 Neslund let his wife, Ruth, handle all the money the couple earned. I handle all the money in my house as well. But unlike Rolf, my husband checks up on the checking account and follows the bills as they arrive in the snail mail. One day Rolf Neslund realized that for all of his years of working the sea and allowiing his wife to invest that he did not have enough money to cash a check for less than a hundred dollars.
Suddenly 80 year old Rolf Neslund disappeared. Ruth and Rolf lived on a remote part of Washington state and the police department had little resources and manpower to investigate what had been reported by Ruth Neslund as the disappearance of her husband.
Rule does her bang up job as usual, introducing us to the victim, the alleged perp, the backgrounds of the family and the turmoils of the investigators.
This Rule book has, like many of her other books, several shorter parts featuring tales of true crimes that intrigue. "No Regrets" includes a funny little story of a young man, Sam Jesse, who dreamed of growing up to be a bank robber. It was his boasting about that dream that led to his capture.
The story of Kari Lindholm's capture and hostage ordeal is told in Rule's riveting fashion as it ends happily.
==================
Focus on Book Reviews
Review Ann Rule's "Every Breath You Take"
Ann Rule's "Evidence of Love"
Ann Rule's "Heart Full of Lies" and "Bitter Harvest"
Amber Frey's story.
"Tainted Roses"
Thomas Capano Book Reviews
=======================
Add POST to Technorati Favorites
=======================