Book Review-Gary Morgenstein's "Jesse's Girl".

A movie in a book will keep the reader on the edge of their seat.

The plot changes, the characters shift relationships, danger abounds, justice prevails and a father and son finally make their peace.

Pic of the Day
---
"Jesse's Girl" by Gary Morgenstein
Amazon code for this book here.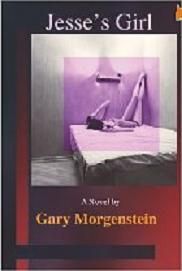 Let us begin with the firm assertion that this book could be a movie. I've no doubt that this book was written by an author who was watching the movie in the theater of his mind as he typed the words of the plot.
Which is not, I again firmly assert, a bad thing.
And because "Jesse's Girl" is a book and not a movie, the subtle emotional nuances are more effectively presented in the narrative that a book always bests a movie media at.
This and the fact that Gary Morgenstein does dialogue better than most any writer I've ever read.
Jesse is a troubled teen, the adopted son of the book's protagonist, middle-aged Teddy Mentor. Teddy is the troubled father of the troubled teen and the book's plot takes Teddy and his son Jesse on a hardscrabble jaunt from Montana to Kentucky. The father-son meet up with a female, Theresa, who is introduced in the story as having one relationship with Jesse then the tale veers into a different direction when it is revealed that Theresa is not who Teddy thought she was, in terms of her relationship to his son Jesse as well as who she presented herself to be.
The book/movie has it all, a love interest for Teddy, appropriate maudlin moments for the female movie audience, and adventure and action for the restless males in the movie seats. There's lots of plot twists and turns as father/son and in some cases Theresa herself drive across Kentucky trying to avoid both the law and an errant individual who wishes them all great harm.
Protagonist Teddy is a decent fellow. So while he finds his more normal geeky PR executive self in a dangerous situation he'd never have imagined in his former life, Teddy never really causes anyone any great harm. In fact, Teddy's greatest wish is to save his son's life and reach a connection with him that had eluded him until Jesse embarked on a mission to find the blood family he never knew. A Quote:
"Alone. He'd never really been alone with Jesse. He'd hid behind Molly, deferred to her superior parental instincts, and then when she died and Jesse went completely off the rails, he was only too eager to send his son away. Forget the agony, poor Teddy and his guilt, he could've found one last alternative."
This is a riveting book, never boring, always surprising. There's plenty of characters in the mix, some bad, some good, most like the majority of humankind I suspect-good, bad and mostly trying to survive in an often difficult world.
I'd recommend this book to anyone who enjoys a great movie with all the elements to entertain but it's a book. Which makes it all the better.
NOTE- Gary Morgenstein is a Conservative and has a daily show- WIMS Radio, 1420, out of Michigan City, Indiana? Gary's on Sundays from 10:30-11AM, ET, offering the conservative perspective. You can listen to it online.
=========
To the Main Blog…Over a Million Page Views
EMAIL ME