An Ann Rule book review because one cannot get enough Ann Rule.

This one is "Last Chance, Last Dance" and Ann revisits some old crimes being solved with new technology.

"Last Chance, Last Dance" by Ann Rule"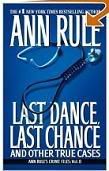 And still nobody writes a true crime book like Ann Rule. This book by Ann Rule is unique out of all her novels in that Rule actually got to interview the victim who almost died at the hands of the idiot around who the story is based.

First, let's talk about Debbie Pignaturo. She married a "doctor" fellow, one Anthony Pignaturo, and I'm sure she loved the guy at the time of their marriage. Ann Rule is entirely too polite to point out the stupidity of the characters in her book so I'll do it for her.

For Debbie Pegnaturo was a fool and so stupid at times it was breathtaking.

Her fine husband, Anthony, was possibly the worst doctor on the planet and I'm sure Debbie, who served some time working with this narcissistic asshole had to know it. In fact, Anthony's first run-in with the law came when he killed a woman during a routine breast lift.

Indeed Anthony had set himself up a little clinic as no hospital would let him inside their walls. He kept to fairly simple procedures such as breast lifts and tummy tucks and most times his payment was in cash from the females who wanted so bad to be more beautiful that they put themselves in harm's way at the hands of a butcher with a doctor's degree from some third world country.

Dr. Pignaturo botched up the breast lift so horrifically that prosecutors actually went to the time and expense to charge the man with a form of murder. How often does this happen?

But Debbie went on with her husband who she had to know was a murdering, bombastic fool. Eventually this fine man tried to murder Debbie herself.

As further proof that Debbie Pignaturo was a bit of a dumbbell, even while she gradually became so sick that she couldn't lift her arm from the arsenic her husband snuck in her food, she still didn't leave the guy or even recognize that it was HE trying to kill her.

Eventually Debbie Pignaturo got so sick that she had to be hospitalized and again prosecutors filed murder charges against Dr. Pignaturo with little help from the hapless Debbie, would-be victim.

Still and all it was a good story and as always, Rule does a great job of telling the story, presenting the players and managing to keep editorial intrusion at a minimum.

Rule needed Debbie Pignaturo to write the book for the detail this pathetic woman would provide. I, as the reader and under no such obligation, will say what I'm sure Ann Rule could not say as she penned the tale of the evil Anthony Pignaturo and his pathetic wife…DEBBIE PIGNATURO gives abused women a bad name.

For if ever a female of this planet needed a reality check it was this lady.

Anthony Pignaturo is now in jail and maybe Debbie Pignaturo has gone on to a new and happier life with the scales removed from her eyes.

I suggest giving this book a read if for nothing else to learn about Dr. Pignaturo's newfangled toupee, which involves Frankenstein-like spikes in the skull, I'm not making this up.
=======================
MORE ANN RULE BOOK REVIEWS
=======================
Review Ann Rule's "Every Breath You Take"

Shiela Bellush had quadruplets and, unfortunately, two daughters with Allen Blackthorne.

Blackthorne had everything a man could want. But he didn't have Shiela.

So he murdered her and left her babies toddling all about their mother's body.
Review Ann Rule's "Every Breath You Take"
----------------------------------
Ann Rule's "Heart Full of Lies" and "Bitter Harvest"

Liysa Northon was featured in Rule's "Heart Full of Lies". Liysa was pretty, intelligent and fortunate enough to live in two homes, one in Hawaii and one in Bend, Oregon. She was married to a Hawaiian Airlines pilot, Chris Northon, and was a talented photographer and writer in her own right.

Dr. Debora Green was a physician married to another physician, a Cardiologist, Dr. Mike Farrar. The couple owned a luxury home in Prairie Village, Kansas.

Both women had beautiful children; Liysa had two precocious boys while Debora had a son and two daughters. Both women wanted their husbands dead. One succeeded, the other gave it a try. Debora Green's house burned down and two of her precious children perished in the flames.

Both of these women are crazy as loons.

Ann Rule's "Heart Full of Lies" and "Bitter Harvest"
----------------------------------
Ann Rule's "No Regrets"

A book review as Ann Rule does it again with "No, Regrets".
He piloted mighty boats and lived past 80 years but his own wife ended it all for him.

Ann Rule's "No Regrets"
----------------------------------
Ann Rule-"And Never Let Her Go"

And Never Let Her Go" is the true crime story of Thomas Capano, scion of a wealthy Delaware family, lawyer and political insider. It wasn't that long ago that this case was splashed in all the newspapers in this area and I vowed that when someone wrote the book I would look into it immediately. I was delighted that Ann Rule wrote the book.

Ann Rule-"And Never Let Her Go"