Two Book Reviews here plus an intriguing update on an old one.

First, two girls go missing under similar circumstances in Oregon. One woman feels certain the suspect is right in front of investigators' eyeballs. "Missing: The Oregon City Girls" tells the sad story of Ashley Pond and Miranda Gaddis, two happy young teens who should be alive and planning their weddings today. The book is by one woman and her struggle to move the investigation in the right direction against all odds.

I broke away from my beloved True Crime book genre to read a book about The Beatles. For as a teenager I adored this Fab Five. I never heard of author Tony Bramwell but his book "Magical Mystery Tour" contained details about the Beatles, their business and private lives, their failures and pluses, in a detail that could be only be known by someone who knew the Beatles well.

Finally I complained about a lack of pictures in a previous book review. The book was "Unfinished Murder", a story about the Cleveland rapist and a prosecutor who got him jailed for life. Only thing, while the lovely rapist Ronnie Shelton was described and "handsome" and "all-American", there were NO pictures of him in the book.

A reader sent me a pic of Mr. Shelton whose mother is so proud of her boy. Click and judge his good looks for yourself.
Pic of the Day
---
"Missing:...The Oregon City Girls" by Linda O'Neal, Philip Tennyson and Rick Watson
This book's Amazon link.
So okay, first odd thing here, why does this book require three people to write?
The book is mostly about Linda O'Neal, a woman related to Ashley Pond via a complicated series of marriages, who is also a private detective.
The book's intrigue is more about the story of the investigation rather than the True Crime Itself.
In fact Ashley Pond once lived with her murderer. Again, via a complicated series of relationships by marriage and proximity, Ashley moved from her mother's home into the home of her friend. Said friend had a father who was a bit too close to Ashley, reportedly allowing the young girl to sleep in the same bed with him.
Finally Ashley did tell someone about her friend's father and an alleged rape.
Then Ashley disappeared.
A few months later, ASHLEY'S friend, Miranda Gaddis, disappeared, abducted from possibly the same bus stop as Ashley.
Linda O'Neal details the investigation into the Oregon girls' disappearance as it unfolded and it's a sad story indeed.
For the mighty FBI got all involved; there were various jurisdictions involved in the investigation. Meanwhile the real murderer had a secret hidden under a concrete floor for a new patio and a real stench in a shed on his property.
The thing that puzzles me about this book is I question why all the investigators involved in this thing and an arguable two-bit private detective knows all the answers, including the big answer of just when and how Ashley Pond first disappeared. Everyone else assumed that Ashley went missing early in the morn. Linda O'Neal presents a compelling argument that Ashley went missing the evening before.
This timing makes all the difference in the world.
Yet with the FBI, local cops, cops from other jurisdictions and the variety of views such a concoction would bring, only Detective O'Neal has a glimmer that there could be a critical time factor in play and that time factor, recognized early on, could have led to the discovery of Ashley and perhaps saved the life of Miranda Gaddis.
This is another book where the intervention of the FBI into the investigation is greatly Unappreciated. I've never read a True Crime book where the FBI involvement is ever wanted by the local investigators.
Only in this case the politically correct FBI involvement in the ongoing investigation was a hindrance that possibly held up the discovery of the bodies of the Oregon girls for several months.
"Unfinished Murder" …Update
In this book review for "Unfinished Murder"
I lamented the lack of pictures in this True Crime book, particularly a pic of the perp.
The book is the story of a serial rapist who terrorized the Cleveland area, his capture and court trial. His name was Ronnie Shelton and throughout the book he was alleged to have come across as an All-American boy, good-looking, clean-cut and polite. When an author basis the story of a criminal on his or her looks, a picture of the perp would be most appropriate.
A reader of my review sent me a pic of the All-American Ronnie Shelton. The reader found this pic easily enough by looking in the investigative database of jailed criminals.
So why couldn't the book's author do this?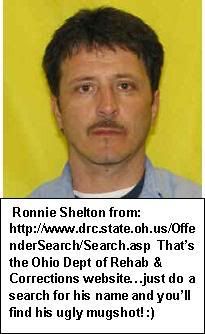 "Magical Mystery Tour" by Tony Bramwell
I was 14 years old when a British group from a town with the unlikely name of Liverpool blazed across my screen on the Ed Sullivan show. I was the perfect demographic to fall in love with the Fab Four and so I did.
Now my chest still throbs as my quadruple coronary bypass heals entirely too slow. John Lennon is dead, shot by a nut case. George Harrison is dead, felled by lung cancer. Paul McCartney married for love, became a widower, then married a one-legged beauty who did him wrong. Ringo Starr is I don't know where. The Beatles have long since ceased to exist, both as a group and as human beings in some cases.
I'm far away from that 14 year old who fell so in love with George Harrison (every Beatlemaniac had one favorite Beatle, it was the rule) and who listened to Beatle 45 records over and over.
I have no idea who Tony Bramwell was, either back when the Beatles were wowing the world or even now, after reading his book about the Beatles: "Magical Mystery Tour",
Amazon link here.
"They say once bitten, twice shy. There's also the phrase, "Once is happenstance, twice is a coincidence, three times is enemy action." So maybe the gods decided to play a long running joke on me, because I lost all my money three times.
I think Tony Bramwell would be called a record promoter. Although in this case Tony was a friend of John, Paul, George and Ringo and ended up becoming a record promoter by virtue of his friendship with the Beatles and their manager, Brian Epstein.
The quote above is part of the confusion I have about Tony Bramwell and what he does. He says he lost all of his money three times and by me, I still don't know WHAT money and how he made it. I do know that Bramwell describes some of his duties on behalf of the Beatles, which included fetching food and getting rid of unwanted females.
Which is not to say that Bramwell's book didn't provide an insight to my favorite singing group of my adolescent self, to include a macabre insight into the tortured soul of Brian Epstein, the Beatle manager that I vaguely understood to be homosexual and troubled.
There are tales of famed Beatle femme fatales, to include Patty Boyd, who married George Harrison, Jane Asher, who romanced Paul McCartney, Linda Eastman, who married Paul McCartney, and, of course, a wealth of information on the very strange and greatly disliked Yoko Ono.
Bramwell is also a bit of a name dropper. Readers are treated to vignettes of such celebrities as Phil Spectre, Joan Collins, Christine Keeler, Richard Branson (didn't like him) plus all kinds of singers...Rolling Stones, Cilla Black, Marianne Faithful, Gerry and Pacemakers, Peter and Gordon, Eric Clapton.
I'd recommend this book to all current and former Beatle fans.
For the Fab Four weren't quite as cherubic as Brian Epstein would have us believe. These formerly middle-class kids from the blue collar city of Liverpool had known a mostly normal life and were thrown into a life of sex and drugs. Bramwell's crafts their story of reaching the pinnacle then the struggle to return to normal roots.
I don't think I could ever have a kind thought about Yoko Ono after this book. Further, I can't have much respect for John Lennon, who let this woman run his life like the steel magnolia she wanted to be.
In fact, this book is worth the read for the insight into the sometimes sad romantic life of these lads who should have been the happiest of us all.
More Book Reviews HERE
~~~~~~~~~~