Dr. Bass became head of the Body Farm at the University of Tennessee.

There dead bodies are studied, rates of decay and other nasty stuff, to help solve crimes, identify the long dead or just so people like myself can read some really interesting stuff about it.

Not for the squeamish.
Pic of the Day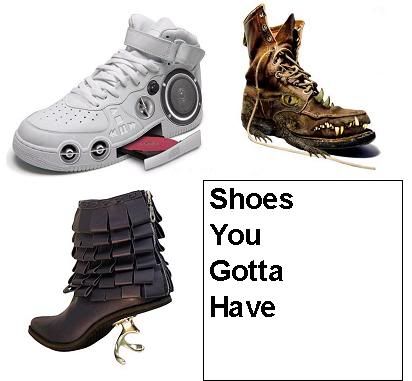 ---
"Beyond the Body Farm"
by Dr. Bill Bass and Jon Jefferson
The "Body Farm" is a place in the University of Tennessee that was set up for the study of human decomposition.
Really.
It's a place where dead bodies are taken and allowed to decompose under all sorts of conditions. The study of the timing and circumstances of the decomposition provide valuable information for future homicides or other circumstances of death.
Web site for Bass' books.
Evidently this team, a bone detective and a writer, founded this Body Farm and wrote a first book all about it. So now we have, of course, BEYOND the Body Farm.
The cover blurb notes:
"a legendary bone detective explores murders, mysteries and the revolution in forensic science"-cover blurb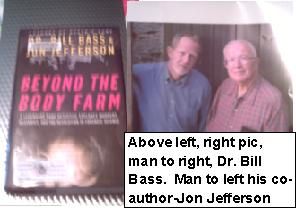 This book is not for squeamish. In fact I had to quickly scan some of the chapters. Such as detailed minutiae of insect activity on a dead body is hardly appetizing.
Some of the cases Dr. Bass investigated were quite fascinating though. Bass is called in as a consult for all sorts of death studies, some criminal, some accidental, some personal.
Richard Jamieson, for example, was found burned in his car. Law enforcement wanted some help on his death as Jamieson had been dead in that car for quite a while. Was it a murder or an accident?
Bass did an autopsy and discovered that Jamieson's body had many burned insect larvae in it. Which could only mean that Jamieson had already been dead and had already decomposed to the point of having massive insect activity. With the larva of these insects burned as well as Jamieson's body, it could only mean that someone loaded Jamieson's already decaying body into that car, or that he had been in the car already dead and decaying, when likely his murderer torched the car.
It's discovering this sort of information that makes for helpful criminal investigations and successful prosecutions.
Bass provides other examples of his craft, including personal pleas to identify found skeletons, bureaucracy requests to identify airplane crash remains and one study in Iran for anthropological artifacts.
It's quite an interesting book, well worth the read for those interested in my favorite literary genre-True Crime.
============
To the Main Blog…Over a Million Page Views
EMAIL ME


Other Blog posts this week:


Dr. Bass became head of the Body Farm at the University of Tennessee.

There dead bodies are studied, rates of decay and other nasty stuff, to help solve crimes, identify the long dead or just so people like myself can read some really interesting stuff about it.

Not for the squeamish.
HERE
============
"Mama Mia" is an okay musical, probably not for our heterosexual brethren. It does feature pop music from my era, has beautiful scenery, great acting, intriguing characters.

Two things, "Dancing Queen" will roll around in your head for a month after seeing it and the plot line, folks, it's really, really uncomfortable.
HERE
============
In Thoughts this week we have a weekly wrap up of Obamacare news, including the most amazing, just revealed on Fox News Sunday today, 8/23/09-the administration's attempt to KILL OFF OUR VETERANS!

The Obama admin sent a spokesperson who they thought would stop the anger but God bless the child for her service to our country but she lied, and lied, and lied, and lied.

They want to kill us, folks, the elderly Vets and citizens, don't let them deny it.

Plus Michelle's shorts, Town Meeting cowards, and the snitch White House web site closed down.
HERE
============